Poet: Ahmad Faraz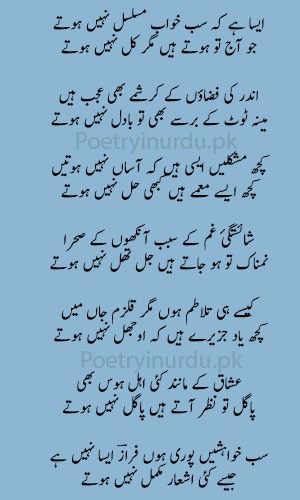 Aisa hai ki sab KHwab musalsal nahin hote
Aisa hai ki sab KHwab musalsal nahin hote
Jo aaj to hote hain magar kal nahin hote.
Andar ki fazaon ke karishme bhi ajab hain
Meinh TuT ke barse bhi to baadal nahin hote.
Kuchh mushkilen aisi hain ki aasan nahin hotin
Kuchh aise muamme hain kabhi hal nahin hote.
Shaistagi-e-gham ke sabab aankhon ke sahra
Namnak to ho jate hain jal-thal nahin hote .
Kaise hi talatum hon magar qulzum-e-jaan mein
Kuchh yaad-jazire hain ki ojhal nahin hote.
Ushshaq ke manind kai ahl-e-hawas bhi
Pagal to nazar aate hain pagal nahin hote.
Sab KHwahishen puri hon 'faraaz' aisa nahin hai
Jaise kai ashaar mukammal nahin hote.
Read More: Bicher Ke Mujh Se