Bicher ke mujh se ye mashghala ikhtiyar kerna
Poet: Mohsin Naqvi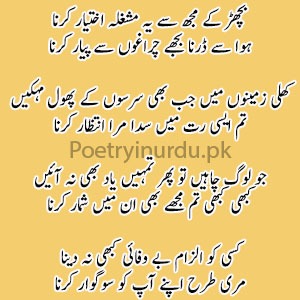 TRITRANSLATIONS
Bicher ke mujh se ye mashghala ikhtiyar kerna
Hawa se Darna bujhe charaghon se pyar karna.
Khuli zaminon mein jab bhi sarson ke phul mahken
Tum aisi rut mein sada mera intizar karna.
Jo log chahen to phir tumhein yaad bhi na aaen
Kabhi kabhi tum mujhe bhi un mein shumar karna .
Kisi ko ilzam-e-bewafai kabhi na dena
Meri tarah apne aap ko sogwar karna.
Translation in English
Take me a bunch of bulls
Love the lamps instead of fearing the air
Whenever the mustard flowers arise in the open land
You have to wait forever in such a blood
People who do not want to remember you do not even remember
Sometimes you too count me in them
Never give offense to anyone
To kiss yourself like a marijuana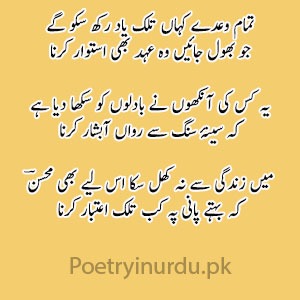 TRITRANSLATIONS
Tamam wade kahan talak yaad rakh sako ge
Jo bhul jaen wo ahd bhi ustuwar karna.
Ye kis ki aankhon ne baadalon ko sikha diya hai
Ki sina-e-sang se rawan aabshaar karna.
Main zindagi se na khul saka is liye bhi "Mohsin"
Ki bahte pani pe kab talak e'tibar karna.
Translation in English
Where can all the promises be remembered?
Forgetting the covenant also forgets
Whose eyes have taught the clouds
The water flow from the breasts
I could not even open my life
When to sleep in water flow.
---