Poet:  Jaun Elia
Umer Guzre Gi Ab Imtihan Mein Kya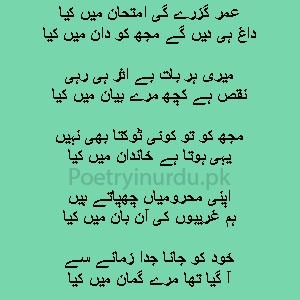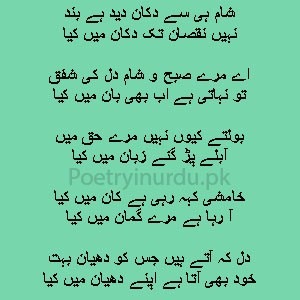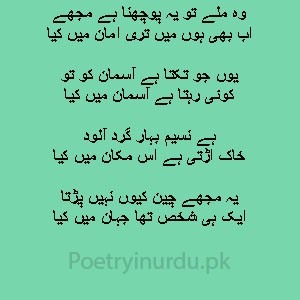 Umer guzre gi ab imtihan mein kya,
Daagh hi denge mujh ko daan mein kya.
Meri har baat be asar hi rahi,
Naqs hai kuch mere bayaan mein kya.
Mujh ko to koi tokta bhi nahin,
Yahi hota hai khandaan mein kya.
Apni mehroomiyan chhupate hain,
Hum ghareebon ki aan baan mein kya.
Khud ko jaana juda zammane se,
Aa gaya tha mere gumaan mein kya.
Bolte kyun nahin mere haqq mein,
Aable par gaye zubaan mein kya.
Dil kay aate hain jis ko dhyaan bohot,
Khud bhi aata hai apne dhyaan mein kya.
Woh mile to yeh poochhna hai mujhe,
Ab bhi hun main teri amaan mein kya.
Yun jo takta hai aasmaan ko tu,
Koi rehta hai aasmaan mein kya.
He naseem-e-bahar gard alood,
Khak urti hai is makan mein kya.
Yeh mujhe chain kyun nahin parta,
Aik hi shakhs tha jahan mein kya.
---