Poet: Jaun Elia
Us Ke Pahlu Se Lag Ke Chalte Hain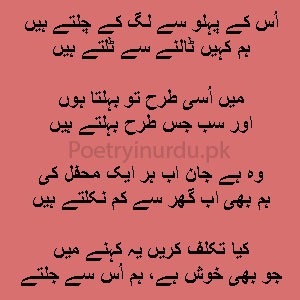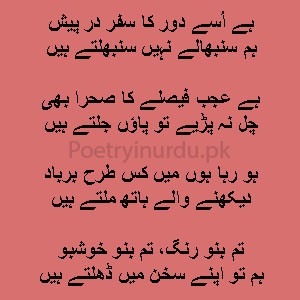 Us Ke Pehloo Se Lag Ke Chalte Hain
Hum Kahin Taalney Se Talte Hain.
Main Usi Tarah To Bahalta Hoon
Aur Sab Jis Tarah Bahalte Hain.
Woh Hai Jaan Ab Har Ek Mehfil Ki
Hum Bhi Ab Ghar Se Kab Nikalte Hain.
Kya Takkaluff Karen Ye Kehne Mein
Jo Bhi Khush Hai Hum Us Se Jalte Hain.
Hai Usey Door Ka Safar Dar-Pesh
Hum Sambhaaley Nahin Sambhalte Hain.
Hai Azaab Faisle Ka Sehraa Bhi
Chal Na Pariye To Paaon Jalte Hain.
Ho Raha Hoon Main Kis Tarah Barbaad
Dekhne Waale Haath Malte Hain.
Tum Bano Rang, Tum Bano Khushboo
Hum To Apne Sukhan Mein Dhalte Hain.
---