Poet: Parveen Shakir
Bichra Hai Jo Ek Bar To Milty Nahin Dekha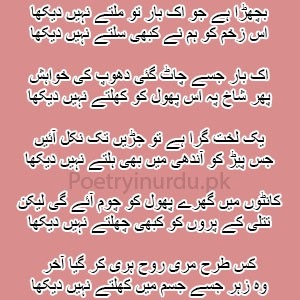 BichhDa hai jo ek bar to milte nahin dekha
Is zaKHm ko hum ne kabhi silte nahin dekha.
Ek bar jise chaT gai dhup ki KHwahish
Phir shaKH pe us phul ko khilte nahin dekha.
Yak-laKHt gira hai to jaDen tak nikal aain
Jis peD ko aandhi mein bhi hilte nahin dekha.
KanTon mein ghire phul ko chum aaegi lekin
Titli ke paron ko kabhi chhilte nahin dekha.
Kis tarah meri ruh hari kar gaya aaKHir
Wo zahr jise jism mein khilte nahin dekha.
---