Poet: Perveen Shakir
Chalne Ka Hausla Nahin Rukna Muhaal Kar Diya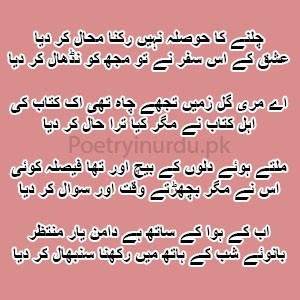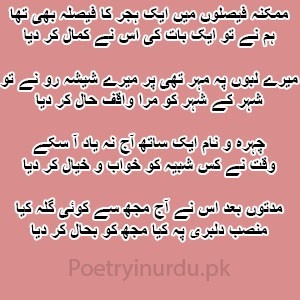 Chalne ka hausla nahin rukna muhaal kar diya
Ishq ke is safar ne to mujh ko niDhaal kar diya.
Ai meri gul-zamin tujhe chah thi ek kitab ki
Ahl-e-kitab ne magar kya tera haal kar diya.
Milte hue dilon ke bich aur tha faisla koi
Us ne magar bichhaDte waqt aur sawal kar diya.
Ab ke hawa ke sath hai daman-e-yar muntazir
Banu-e-shab ke hath mein rakhna sambhaal kar diya.
Mumkina faislon mein ek hijr ka faisla bhi tha
Hum ne to ek baat ki us ne kamal kar diya.
Mere labon pe mohr thi par mere shisha-ru ne to
Shahr ke shahr ko mera waqif-e-haal kar diya.
Chehra o nam ek sath aaj na yaad aa sake
Waqt ne kis shabih ko KHwab o KHayal kar diya.
Muddaton baad us ne aaj mujh se koi gila kiya
Mansab-e-dilbari pe kya mujh ko bahaal kar diya.
---