Poet: Parveen Shakir
Qadmon Mein Bhi Takan Thi Ghar Bhi Qarib Tha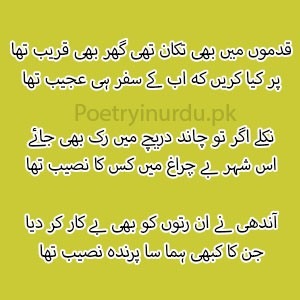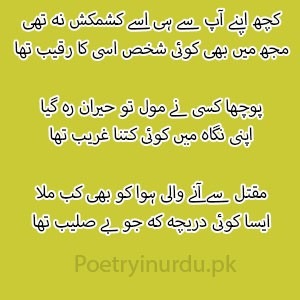 Qadmon mein bhi takan thi ghar bhi qarib tha
Par kya karen ki ab ke safar hi ajib tha.
Nikle agar to chand dariche mein ruk bhi jae
Is shahr-e-be-charagh mein kis ka nasib tha.
Aandhi ne un ruton ko bhi be-kar kar diya
Jin ka kabhi huma sa parinda nasib tha.
Kuchh apne-ap se hi use kashmakash na thi
Mujh mein bhi koi shaKHs usi ka raqib tha.
Puchha kisi ne mol to hairan rah gaya
Apni nigah mein koi kitna gharib tha.
Maqtal se aane wali hawa ko bhi kab mila
Aisa koi daricha ki jo be-salib tha.
---