Poet:  Parveen Shakir
Gae Musam Mein Jo Khilte The Gulabon Ki Tarah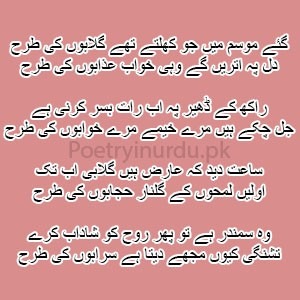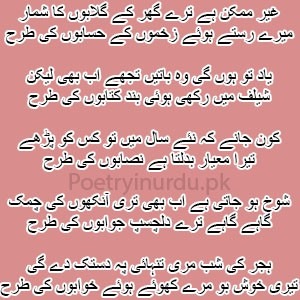 Gae musam mein jo khilte the gulabon ki tarah
Dil pe utren ge wohi khwab azabon ki tarhan.
Rakh ke dhair pe ab rat basar karni he
Jal chuke hen meray khemay, meray khawabon ki tarha.
Sa'at e deed ke aariz hen gulabi ab tak
Awwalin lamhon ke gulnar hijabon ki tarha.
Wo samandar he to phir rooh ko shadab kre
Tashnagi kiun mujhe deta he sarabon ki tarha.
Ghair mumkin he teray ghar ke gulabon ka shumar
Meray raste hue zakhmon ke hisabon ki tarha.
Yad to hon ge wo baten tujhe ab bhi lekin
Shelf me rakhi hui band kitabon ki tarha.
Kon janey ke nae saal me tu kis ko parhe
Tera mayar badalta he nasabon ki tarha.
Shokh ho jati he ab bhi teri aankhon ki chamak
Gahey gahey, teray dilchasp jawabon ki tarha.
Hijr ki shab, meri tanhai pe dastak de gi
Teri khushbu, meray khoey hue khawabon ki tarha.
---