Bewafa Poetry is one of the most reading topic in Urdu Poetry. Read Bewafa Poetry in Urdu and share someone cheats on you (friend or lover).
Bewafa Poetry in Urdu 2 Lines
اِک عمر تک میں اُس کی ضرورت بنا رہا
پھر یوں ہوا کہ اُس کی ضرورت بدل گئی
Ik Umar Tak Main Uski Zarurat Bana Raha,
Phir Yun Hua Kh Uski Zarurat Badal Gayi.
♥⇐⇒♥⇐⇒♥⇐⇒♥⇐⇒♥⇐⇒♥⇐⇒♥
بے وفائی کی سب کتابوں میں
تمہارے جیسی کوئی مثال نہیں
Bewafai Ki Sab Kitaabon Mein
Tumhare Jese Koi Misaal Nahi
♥⇐⇒♥⇐⇒♥⇐⇒♥⇐⇒♥⇐⇒♥⇐⇒♥
شک رواں کی نہر ہے اور ہم ہیں دوستوں
اُس بے وفا کا شہر ہے اور ہم ہیں دوستوں
منیر نیازی
Shak Rawan Ki Neher Hai Aur Hum Hain Dostoo
Us Be Wafa Ka Shehar Hai Aur Hum Hain Dostoo
♥⇐⇒♥⇐⇒♥⇐⇒♥⇐⇒♥⇐⇒♥⇐⇒♥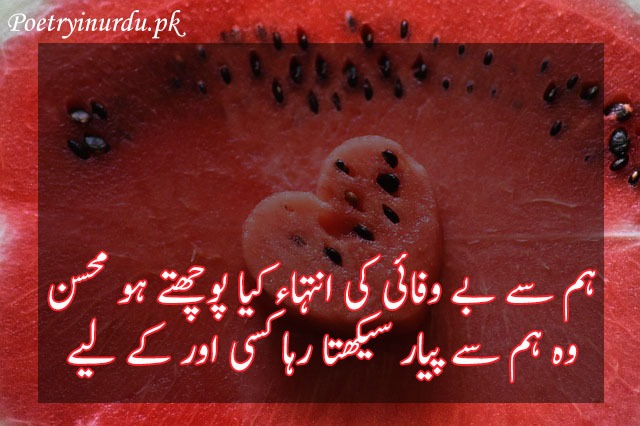 ہم سے بے وفائی کی انتہاء کیا پوچھتے ہو محسن
وہ ہم سے پیار سیکھتا رہا کسی اور کے لیے
Ham Se Bewafai Ki Intha Kia Pochte Ho Mohsin
Wo Ham se Pyar Sekhta Raha Kisi Aur Ke Liye
♥⇐⇒♥⇐⇒♥⇐⇒♥⇐⇒♥⇐⇒♥⇐⇒♥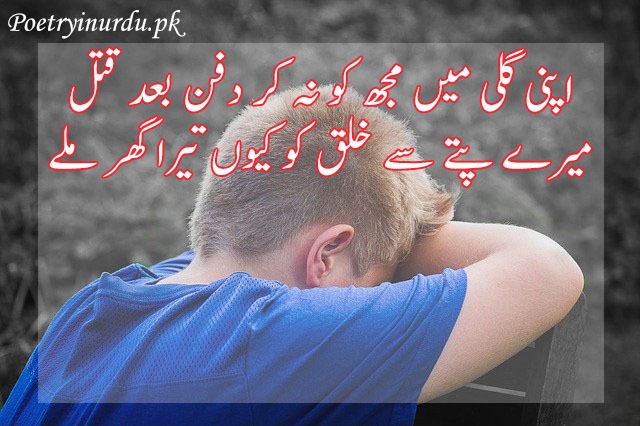 اپنی گلی میں مجھ کو نہ کر دفن بعد قتل
میرے پتے سے خلق کو کیوں تیرا گھر ملے
Apni Gali Mai Mujh Ko Na Kar Dafan Bad-e-Qatl
Mere Pate Se Khalq Ko Kyun Tera Ghar Mile
♥⇐⇒♥⇐⇒♥⇐⇒♥⇐⇒♥⇐⇒♥⇐⇒♥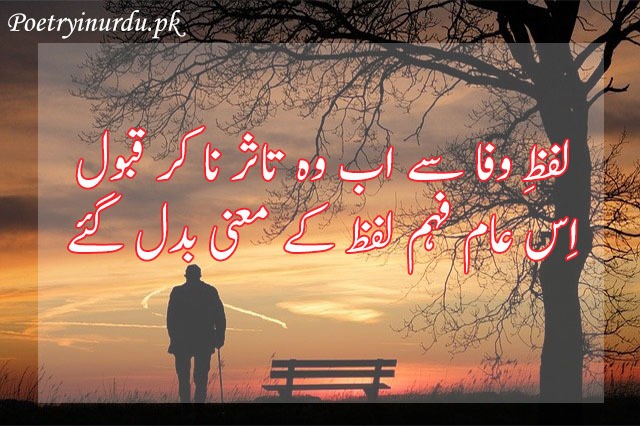 لفظِ وفا سے اب وہ تاثر نا کر قبول
اِس عام فہم لفظ کے معنی بدل گئے
Lafz Wafa Se Ab Woh Tasir Na Kar Qabool,
Is Aam Fehem Lafz Ke Maani Badal Gaye.
♥⇐⇒♥⇐⇒♥⇐⇒♥⇐⇒♥⇐⇒♥⇐⇒♥
نہیں شکوہ مجھے کچھ بے وفائی کا تیری ہرگز
گلا تب ہو اگر تو نے کسی سے نبھائی ہو
خواجہ میر درد
Nahi Shikwa Mujhe Kuch Be-wafai Ka Teri Hargiz
Gila Tab Ho Agar Tu Ne Kisi Se Bhi Nibhi Ho
♥⇐⇒♥⇐⇒♥⇐⇒♥⇐⇒♥⇐⇒♥⇐⇒♥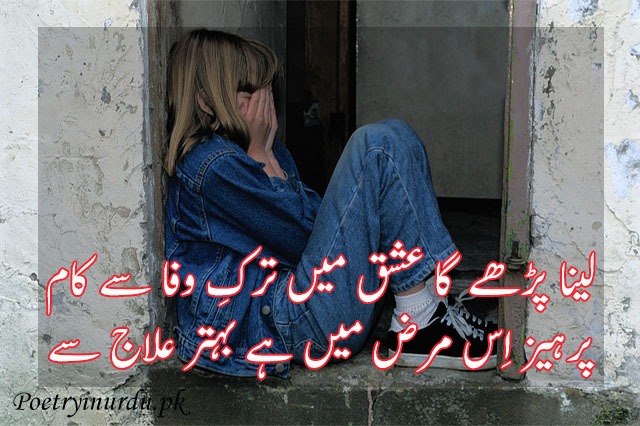 لینا پڑھے گا عشق میں ترکِ وفا سے کام
پرہیز اِس مرض میں ہے بہتر علاج سے
Lena Parega Ishq Mein Tark e Wafa Se Kaam,
Parhez Iss Marz Mein Hai Behtar Ilaaj Se.
♥⇐⇒♥⇐⇒♥⇐⇒♥⇐⇒♥⇐⇒♥⇐⇒♥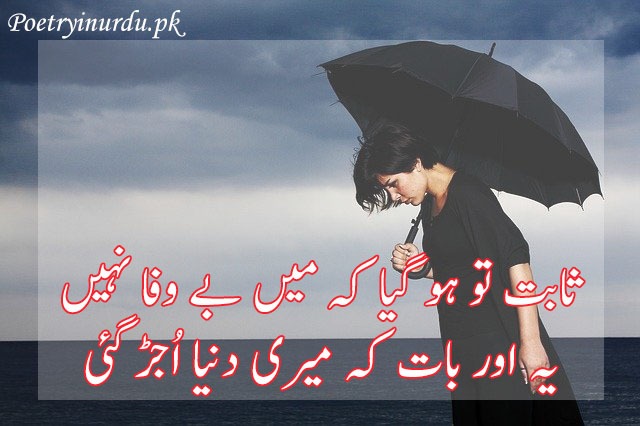 ثابت تو ہو گیا کہ میں بے وفا نہیں
یہ اور بات کہ میری دنیا اُجڑ گئی
Sabat Tu Ho Gaya Ke Main Bewafa Nahi
Ye Aur Baat ke Meri Dunya Ujar Gayi
♥⇐⇒♥⇐⇒♥⇐⇒♥⇐⇒♥⇐⇒♥⇐⇒♥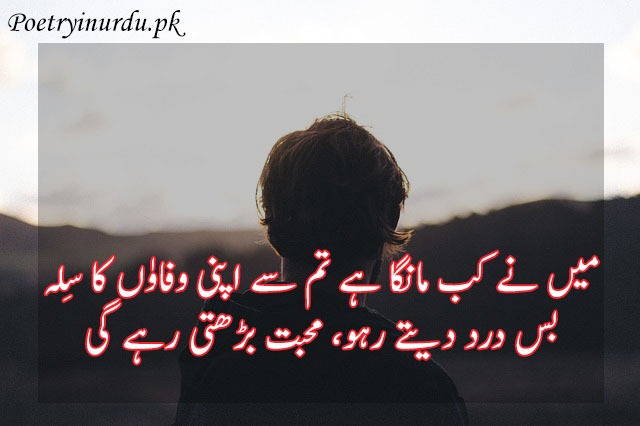 میں نے کب مانگا ہے تم سے اپنی وفاوٰں کا سِلہ
بس درد دیتے رہو، محبت بڑھتی رہے گی
Maine Kab Manga Hai Tumse Apni Wafaon Ka Sila,
Bus Dard Dete Raho, Mohabbat Barhti Rahegi.
♥⇐⇒♥⇐⇒♥⇐⇒♥⇐⇒♥⇐⇒♥⇐⇒♥