Every human being is in search of peace and in no case is dissatisfied with his situation, wandering in search of coins is a part of life. Peace comes only when a person leaves the world. Different poets have expressed Sakoon Poetry in their own words.
عشق کے مراحل میں وہ بھی وقت آتا ہے
آفتیں برستی ہیں۔۔۔ دل سکون پاتا ہے
Ishq Kay Marahil Main Wo Bhi Waqt Aata Hai
Aaften Barasti Hain Dil Sakoon Pata Hai
प्यार के पड़ाव में वो वक्त भी आता है
विपदाओं की बरसात हो रही है… दिल को सुकून है
♥⇔♥⇔♥⇔♥⇔♥
گر سکوں چاہیے اس لمحۂ موجود میں بھی
آؤ اس لمحۂ موجود سے باہر نکلیں
Gar Sukoon Chahiye Is Lamha-e-Maujud Mai Bhi
Aao Is Lamha-e-Maujud Se Bahar Niklen
गर सुकूँ चाहिए इस लम्हा-ए-मौजूद में भी
आओ इस लम्हा-ए-मौजूद से बाहर निकलें
♥⇔♥⇔♥⇔♥⇔♥
ہم تجھے یوں ڈھونڈتے ہیں
جیسے لوگ سکون ڈھونڈتے ہیں
Hum Tughe Youn Dhondty Hain
Jesy Log Sakoon Dhondty Hain
इसी तरह हम आपको ढूंढते हैं
जैसे लोगों को शांति मिलती है
♥⇔♥⇔♥⇔♥⇔♥
ملنے لگتا ہے جب کسی کی رفاقت میں سکون
پھر یوں ہوتا ہے کہ وہ شخص بچھڑجاتا ہے
Milny Lagta Hai Jab Kisi Ki Rafaqat Main Sakoon
Phir Youn Hota Hai Kay Wo Shaks Bichar Jata Hai
यह बस तब हमारे संज्ञान में आया था
तब ऐसा होता है कि व्यक्ति टूट जाता है।
♥⇔♥⇔♥⇔♥⇔♥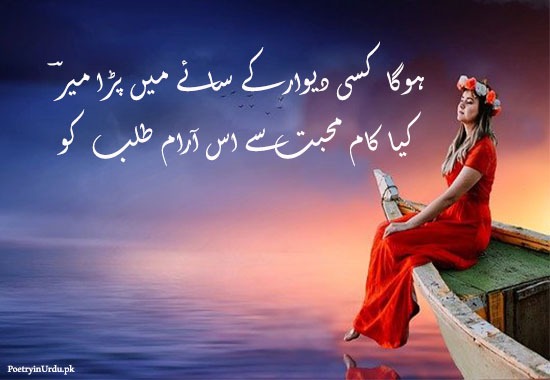 ہوگا کسی دیوار کے سائے میں پڑا میرؔ
کیا کام محبت سے اس آرام طلب کو
Hoga Kisi Deewar K Saaye Mai Para 'Mir'
Kya Kaam Mohabbat Se Us Aram-Talab Ko
होगा किसी दीवार के साए में पड़ा 'मीर'
क्या काम मोहब्बत से उस आराम-तलब को
♥⇔♥⇔♥⇔♥⇔♥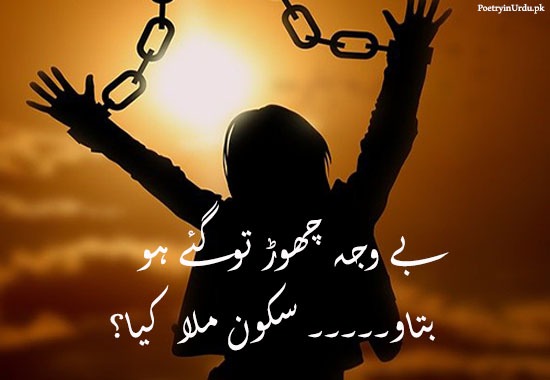 بے وجہ چھوڑ تو گئے ہو
بتاو۔۔۔۔۔ سکون ملا کیا؟
Bewaja Chor To Gaye Ho
Batao Sakoon Mila Kiya?
आप बिना वजह चले गए
मुझे बताओ क्या आपको शांति मिली?
♥⇔♥⇔♥⇔♥⇔♥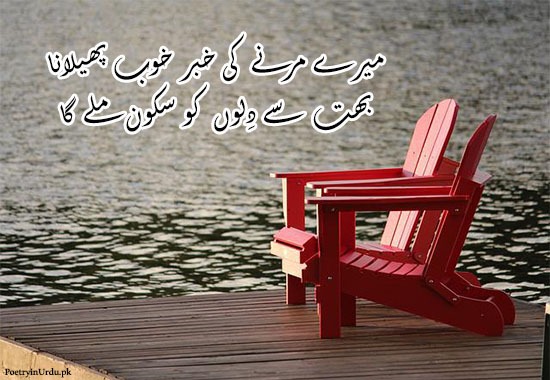 میرے مرنے کی خبر خوب پھیلانا
بہت سے دِلوں کو سکون ملے گا
Mery Marny Ki Khabar Khoob Phelao
Bohat Say Dilon Ko Sakoon Mily Ga
यह बस तब हमारे संज्ञान में आया था
बहुतों के दिलों को शांति मिलेगी।
♥⇔♥⇔♥⇔♥⇔♥
اس شور مچاتی دُنیا میں
اک تم ہی سکون کا لمحہ ہو
Is Shor Machati Dunia Main
Ik Tum He Sakoon Ka Lamha Ho
इस शोर भरी दुनिया में
आप शांति के क्षण हैं।
♥⇔♥⇔♥⇔♥⇔♥
زبردستی کی۔۔۔محبت سے
سکون کی دوریاں بہتر ہوتی ہیں
Zabardasti Ki Muhabbat Say
Sakoon Ki Doriyan Behtar Hoti Hain
जबरदस्ती … प्यार से बाहर
आराम की दूरियां बेहतर हैं
♥⇔♥⇔♥⇔♥⇔♥
اس کی یاد مجھے مار ہی ڈالے گی
دُعا کرو کہ سکون سے مر جاوں میں
Uski Yaad Mughe Mar He Daly Ge
Dua Karo Kay Sakoon Say Mar Jaon Main
यह बस तब हमारे संज्ञान में आया था
दुआ करो कि मैं चैन से मर सकूँ।
♥⇔♥⇔♥⇔♥⇔♥
اُس کی آوازآواز نہیں
میرے دل کا سکون ہے
Uski Awaz Awaz Nahi
Mery Dil Ka Sakoon Hai
वह ठीक है
मेरे पास मन की शांति है।
♥⇔♥⇔♥⇔♥⇔♥
اپنے لبوں کی ہنسی کاش میں دے دوں اُسے
چھین کے دُکھ اُسکے اپنا سکون دے دوں اُسے
Apny Labon Ki Hansi Kash Main De Don Usy
Cheen Kay Dukh Usky Apna Sakoon Day Don Usy
काश मैं उसे अपने होठों की हंसी दे पाता
उसे अपने मन की शांति दें।
♥⇔♥⇔♥⇔♥⇔♥
Read More: Happy Poetry in Urdu