Hard work is necessary for the success of any work. Even if you achieve success without hard work, you don't feel the satisfaction that comes from hard work success and secondly, the success is not worth it. As the Quaid-e-Azam said: work, work and only work.
Some of the best and Motivational Quotes for Students are being given which will definitely prove effective in motivating students to work hard and dedicate themselves to work.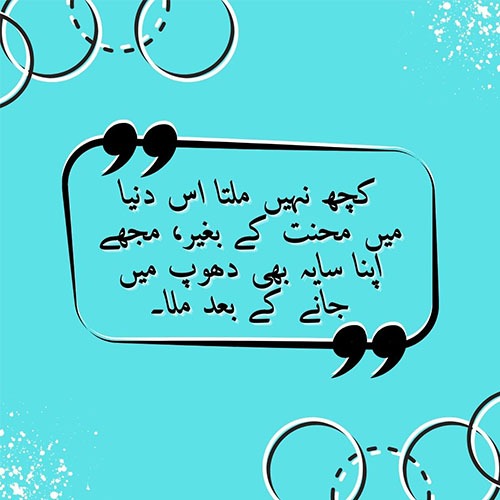 Kuch nahi milta is dunya main mehnat ke baghair, Mujhay apna saya bhi dhoop main jane ke baad mila.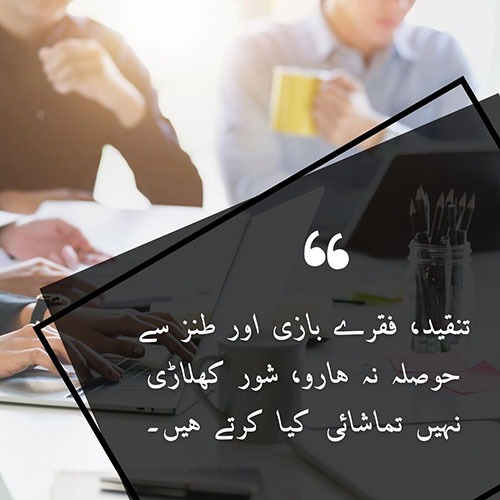 Tanqeed, fiqry bazi aur tanz se hausla na haro, shur khilari nahi tamashai kia kerty hain.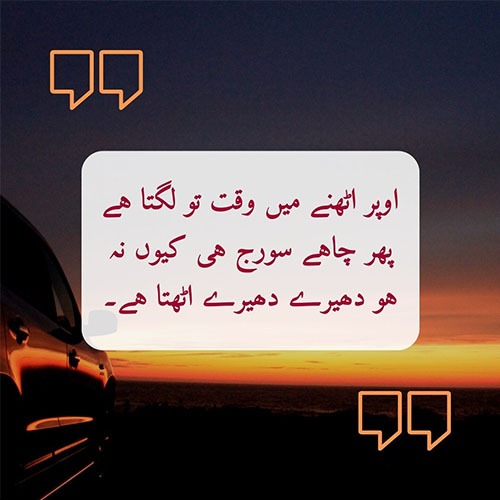 Uper Uthne main Waqt to Lagta hai, Phr chahay Suraj hi kyuen na ho Dheere Dheere Ughta hai.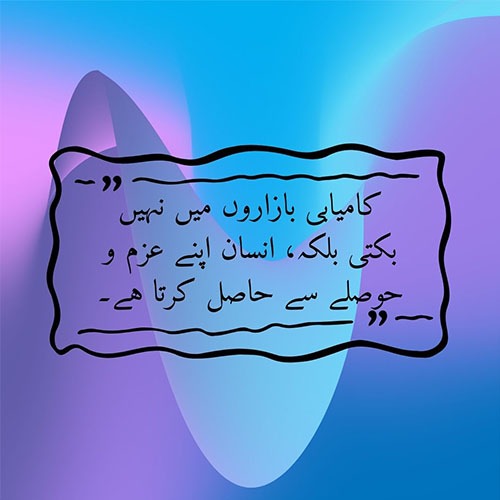 Kamyabi Bazaaron main Nahi bikti Bulky, Insaan apny azm o hosly say Hasil krta hai.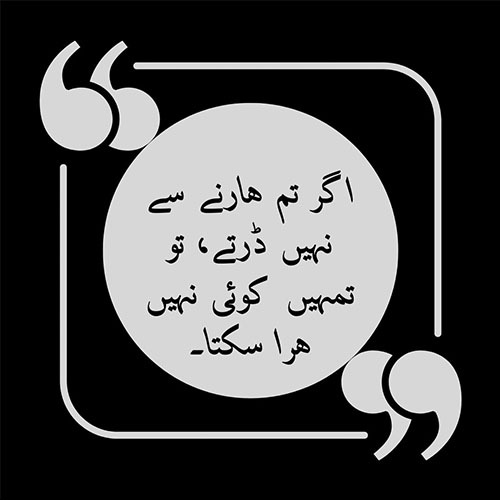 Agar tum harne se nahi dartay, To Tmhain koi nahi hara sakta.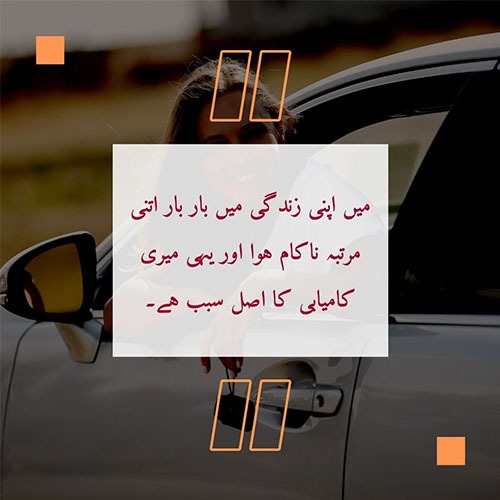 Mein apni zindagi mein baar baar itni martaba nakaam hoa aur yahi meri kamyabi ka asal sabab hai.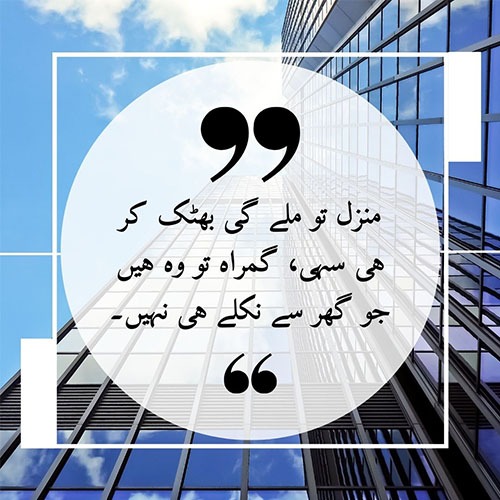 Manzil to milay gi bhatak kar hi sahi, Gumrah to wo hain jo ghar se nikle hi nahi.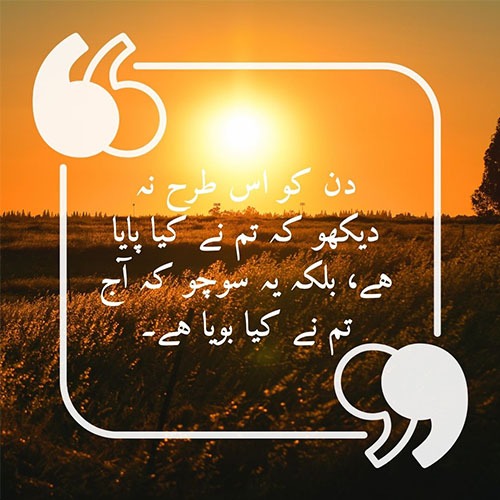 Din ko istrah na dekho tum nay kia paya hai, Balkay ye socho kay aj tum nay kia boya hai.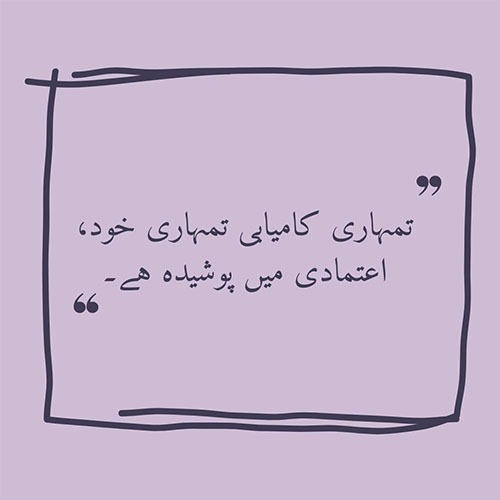 Tumhari kamyabi Tumhari khud Atmaadi main posheeda hai.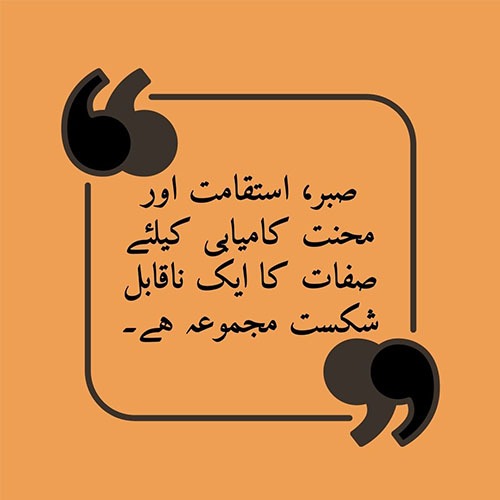 Sabr, istiqamat aur mehnat kamyabi ke liye sifaat ka aik na qabil e shikast majmoa hai.
وقت گہرے سمندر میں گرا ہوا موتی ہے، جس کا دوبارہ ملنا نہ ممکن ہے۔

Waqt gheray samandar Main gira huwa moti hai, Jis ka dubara milna na mumkin hai.
پرندہ جب اڑنے کی ٹھان لے تو، ہوا کو راستہ دینا ہی پڑتا ہے۔

Parinda jab urhne ki thaan le to, Hawa ko Rasta dena hi parta hai.
ساری دنیا کے رہنماؤں کی رہنمائی کچھ نہیں کرسکتی، اگر آپ خود کچھ نہ کرنا چاہیں۔

Sari dunya ke rehnumaon ki rehnumai kuch nahi karsakti, Agar aap khud kuch na karna chahain.
کامیاب لوگ اپنے فیصلوں سے دنیا بدل دیتے ہیں، اور کمزور لوگ دنیا کے ڈر سے اپنے فیصلے بدل دیتے ہیں۔

Kamiyab log apny fesloon se dunya badal dete hain, Or kamzoor log dunya ke dar se apny fesle badal dete hain.
منزلیں ہمیشہ ان ہی کو ملتی ہیں، جو منزلوں کو تلاش کرتے ہیں۔

Manzilain hamesha un hi ko milti hain, Jo manziloon ko talash karte hain.
ہار اور جیت تو اپنے اندر ہوتی ہے، مان لو تو ہار ہے، ٹھان لو تو جیت ہے۔

Haar aur Jeet tw Apny Andr huti hainMaan lo tw Haar hai, Thaan lo tw Jeet hai.
نہ کامیابی حتمی ہوتی ہے اور نہ ہی ناکامی: بلکہ اصل چیز کوشش جاری رکھنے کا حوصلہ ہوتا ہے۔

Na kaamyabi hatmi hoti hai aur nah hi nakami: balkay asal cheez koshish jari rakhnay ka hosla hota hai.
ساتھ ملنا ایک آغاز ہے، ساتھ رہنا پیشرفت ہے! اور ساتھ مل کر کام کرنا کامیابی ہے۔

Sath milna aik aaghaz hai, sath rehna paish raft hai! Aur sath mil kar kaam karna kamyabi hai.
ہمیشہ اپنے آپ بن کر رہیں، اس کا اظہار کریں، خود پر یقین رکھیں۔ باہر جا کر کسی کامیاب شخصیت کو ڈھونڈ کر اسے نقل نہ کریں۔

Hamesha apne aap ban kar rahen, is ka izhaar karen, khud par yaqeen rakhain. bahir ja kar kisi kamyaab shakhsiyat ko dhoond kar usay naqal na kren.
کامیابی چاہتے ہو تو اسے مقصد نہ بناؤ؛ جو آپ کو پسند ہے اور جو یقین ہے بس وہ کرتے جاؤ، اور یہ قدرتاً مل جائے گی۔

Kaamyaabi chahtay ho to isay mqsad na bnao; jo aap ko pasand hai or jo yaqeen hai bus woh karte jao; yeh qudratan mil jae gi.
میں کسی انسان کی کامیابی کو اس طرح نہیں جانچتا کہ وہ کتنے بلند مقام تک پہنچا لیکن بجز اس کے کہ وہ پستی میں گر کر واپس کتنی بلندی پر پہنچا۔

Main kisi insaan ki kamyabi ko nahi janchta ke woh kitney buland maqam tak pouncha lekin bajuz is ke keh woh pasti mein gir kar wapas kitni bulandi par pohncha.
کامیابی کو سب سے زیادہ میٹھا وہ شمار کرتے ہیں، جو کبھی کامیاب نہیں ہوتے۔

Kamyabi ko sab se ziyada meetha woh shumaar karte hain, jo kabhi kamyaab nahi hotay.
آپ کی کامیابی کی قد و قامت آپ کی قوت خواہش، آپ کے خوابوں کی وسعت، اور راستے میں آنے والی مایوسیوں سے آپ کے نبٹنے کے طریقے پر منحصر ہے

Aap ki qamyabi ki qad o qaamat aap ki quwwat e khuwahish, aap ky khuwabon ki wusat or raastay main aane wali mayusion se aap ke nibattne kay tareeqay par munhasir hai.
ایک کامیاب آدمی وہ ہے جو اس کی طرف دوسروں کی پھینکی ہوئی اینٹوں سے ایک مضبوط بنیاد بنا سکتا ہے۔

Aik kamyaab aadmi woh hai jo is ki taraf doosron ki pehnki hui eentton se aik mazboot bunyaad bana sakta hai.
Read More: Quotes for Success in Urdu, English