Successful people always sleep early at night and wake up early in the morning. If you also want to be successful, take care of the routine of sleeping and waking up. Those who sleep even after sunrise, their destiny also sleeps.
Start their day with good words by sharing Good Morning Wishes, Quotes, Dua and Sms to your loved ones.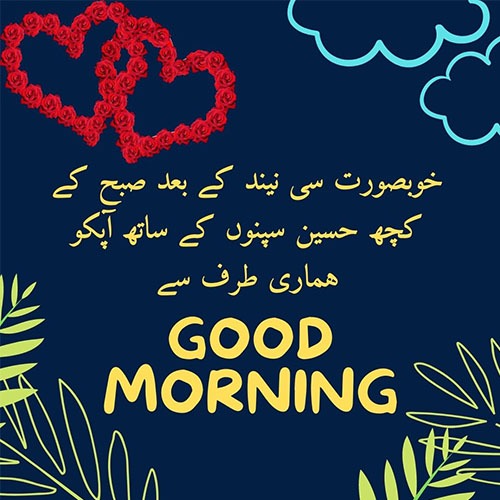 Khubsoorat si neend ke baad subah ke kuch haseen sapnon ke saath Aapko humari taraf se "Good Morning"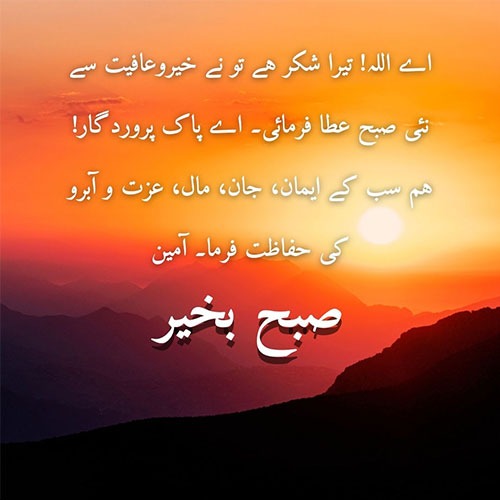 Ae Allah! Tera shukar hai tu ne khair-o-afiat se nai subha ata fermai. Ae Pak Perwardegar! ham sab ke eeman, jaan, maal, izat-o-aabro ki hifazat ferma. Aameen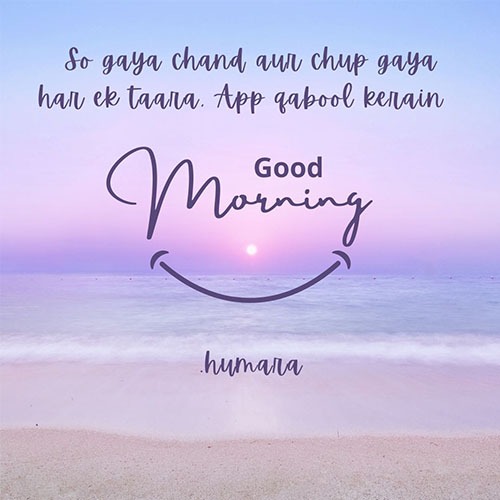 So gaya chand aur chup gaya har ek taara
Qubool kariye aap "Good Morning" humara.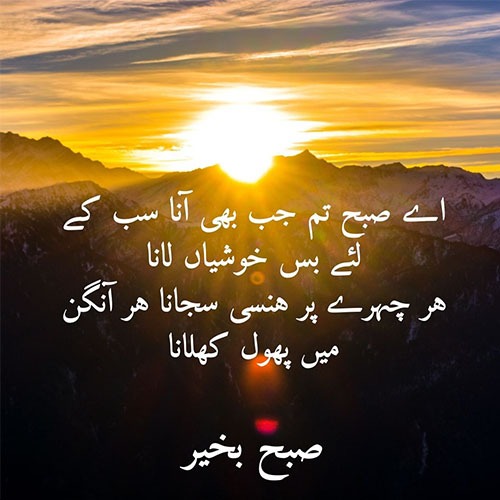 Aye subah tum jab bhi aana sab ke liye bas khushiyaan laana
Har chehre par hansi sajaana har aangan mein phool khilaana
"Good Morning"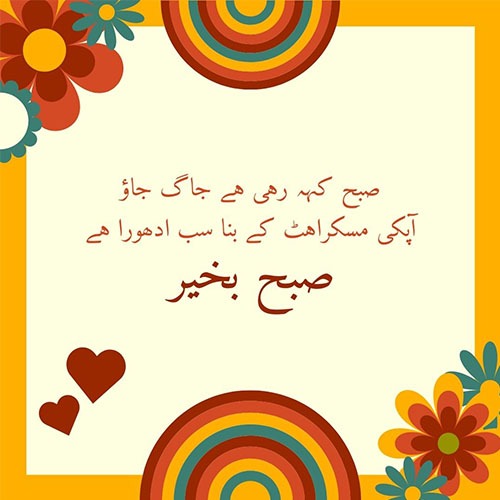 Subah keh rahi hai jaag jaao
Aapki muskuraahat ke bina sab adhura hai
"Good Morning"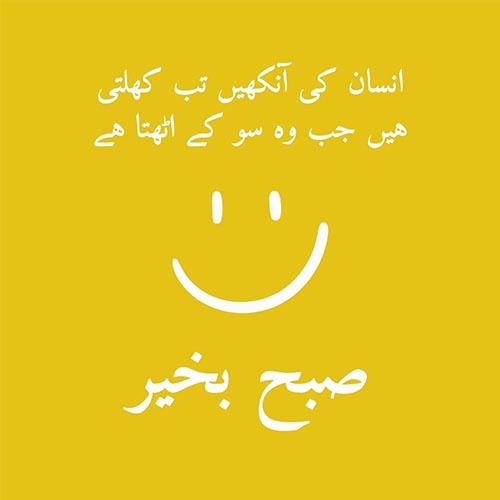 Insan ki aankhain tab khulti hain jab woh so ker uthta hai. Subha Bakhair
Nikalo Apna Chaand sa Chehra..!
Agosh-e-Bistar se..!
Subha Taras Rhi..!
Hai Tera Deedar..!
Karne Ko..!

Subha Bakhair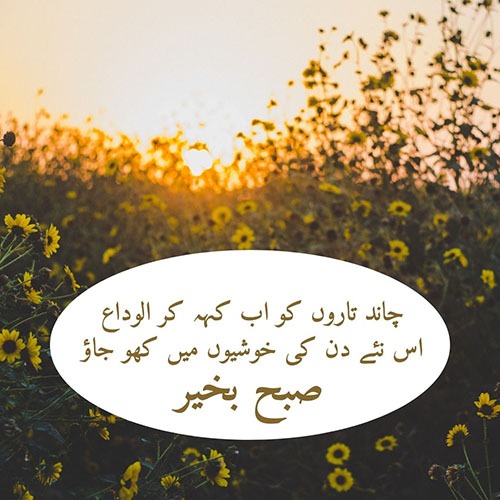 Chand-taaron ko ab keh kar alvida
Iss naye din ki khushiyon mein kho jao
"Good Morning"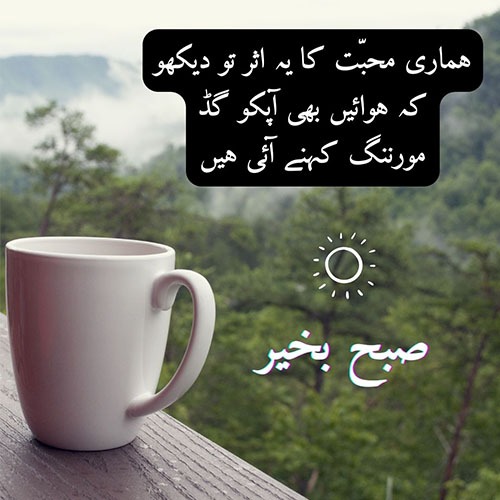 Humari mohabbat ka yeh asar toh dekho
Kh hawaayein bhi aapko good morning kehne aayi hain
"Good Morning"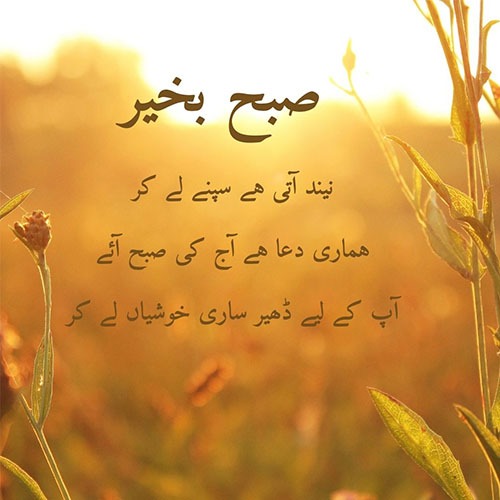 Need aati hai sapne lekar,
Hamari dua hai aaj ki subah aaye aapke liye,
Dher sari khushiyan lekar.
سپنوں کے جہاں سے اب لوٹ آؤ
ہوئی ہے صبح اب جاگ جاؤ

Sapnon ke jahan se ab laut aao
Hui hai subah ab jaag jaao
"Good Morning"
بس اتنی سی خواہش پوری چاہئے
ہر صبح تو مجھے میرے ساتھ چاہئے

Bas itni si khwaahish poori chaahiye
Har subah tu mujhe mere saath chaahiye
"Good Morning"
صبح کا اجالا سدا آپکے ساتھ ہو
ہر دن ہر پل آپکے لئے خاص ہو

Subah ka ujaala sada aapke saath ho
Har din har pal aapke liye khaas ho
"Good Morning"
صبح کا ہر پل پیاری زندگی دے آپکو
دن کا ہر پل خوشیاں دے آپکو

Subah ka har pal pyaari zindagi de aapko
Din ka har pal khushiyaan de aapko
"Good Morning"
سورج نکلنے کا وقت ہو گیا ہے
پھول کھلنے کا وقت ہو گیا ہے
نیند سے جاگو میرے دوست
کیونکہ سپنوں کو حقیقت میں بدلنے کا وقت ہو گیا ہے

Sooraj nikalne ka waqt ho gaya hai
Phool khilne ka waqt ho gaya hai
Lekin neend se jaago mere dost
Kyunki sapnon ko haqeeqat mein badalne ka waqt ho gaya hai
"Good Morning"
اٹھ کر دیکھئے اس صبح کا نظارہ
ہوا ہے ٹھنڈی اور موسم بھی ہے پیارا

Uth kar dekhiye iss subah ka nazaara
Hawa hai thandi aur mausam bhi hai pyaara
"Good Morning"
دیارِ عشق میں اپنا مقام پیدا کر
نیا زمانہ، نئے صبح و شام پیدا کر

Dayaar e Ishaq mein Apna Muqaam Paida Kar
Naya Zamana Nayae Subah o Shaam Paida Kar.

Salam-e-Subaha
Read More: Juma Mubarak Wishes