Are you looking for words that have a special meaning that can inspire people and touch the heart? So you will find in this post Deep Words in Urdu. Share them on Facebook, Instagram and other social media platforms so that people can know what you think and people can be inspired by you.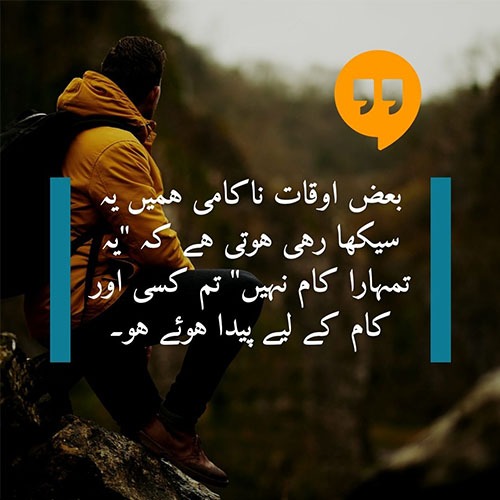 Baaz auqat nakami hamain yeh seekha rahi hoti hai keh "yeh tumhara kaam nahi" tum kisi aur kaam ke lye peda huway ho.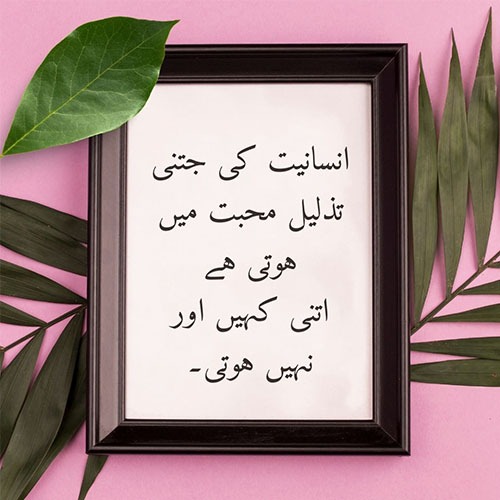 Insaniyat ki jitni tazleel muhabbat main hoti hai Itni kahin aur nahi hoti.
Zindagi Mohabbat k beghair Aisi hai Jaise wo pairr jis main Phool hon na Phal.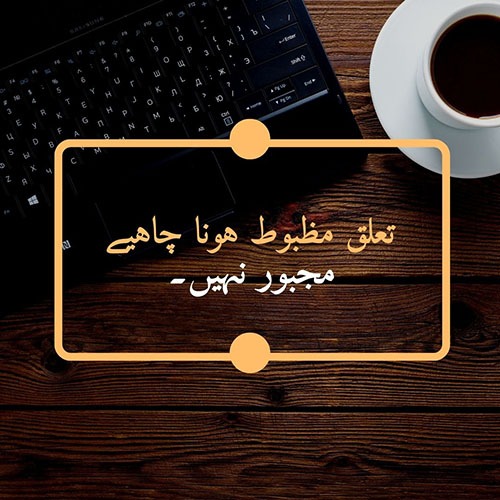 Taaluq mazboot hona chahye
Majboor nahi!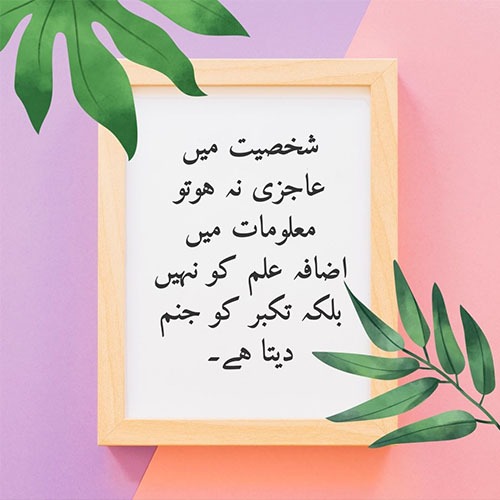 Shakhsiyat Main Haajzi Na Hoto Malomaat Main Izafa Ilm Ko Nahin Balkay Takubar Ko Janam Daita Hai..!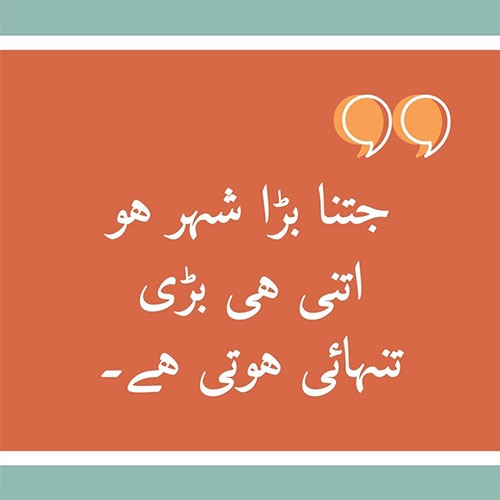 Jitna bara shehar ho, utni hi bari tanhai hoti hai.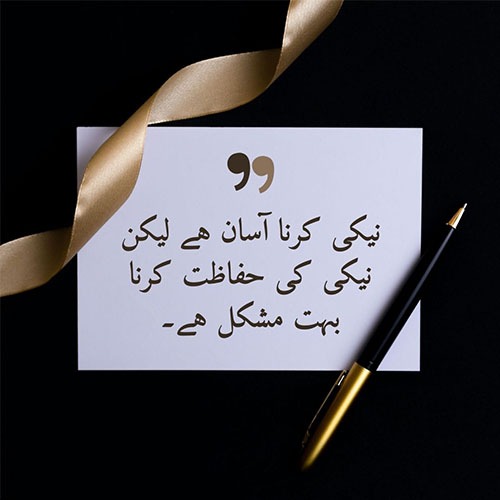 Neki karna asaan hai lekin
Neki ki hifazat karna buhat mushkil hai.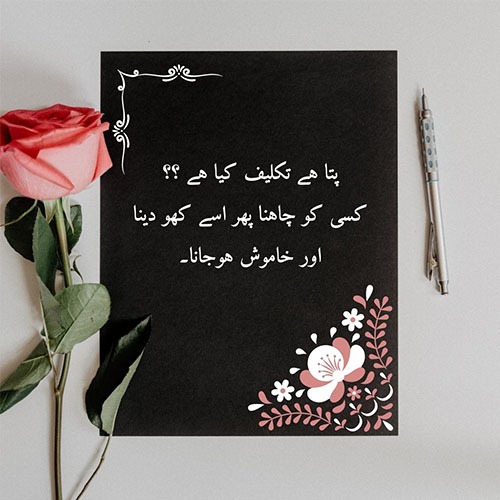 Pata hai takleef kya hai?
Kisi ko chahna phr usy kho dena aur khamosh hojana.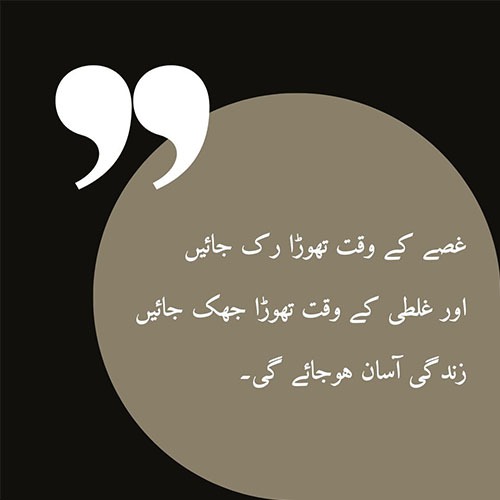 Ghusay ke waqt thora ruk jain
Aur galti ke waqt thora jhuk jain
Zindagi asaan hojaye gi.
مظبوط لوگ خاموش رہتے ہیں
کسی سے شکایت نہیں کرتے

Mazboot log khamosh rehtay hain
kisi se shikayat nahi karte.
تاروں کو انسان تب گھورتا ہے
جب زمین پہ اس کا کچھ کھو گیا ہو۔

Taroon ko insaan tab ghoorta hai
Jab zameen peh is ka kuch kho gaya ho.
مت چاہو کسی کو اتنا کہ بعد میں رونا پڑے
یہ دنیا چاہت سے نہیں ضرورت سے پیار کرتی ہے

Mat chaho kisi ko itna keh baad main rona pare
Yeh dunya chahat se nahi zarurat se pyar karti hai.
وقت کے ساتھ ساتھ بہت کچھ بدل جاتا ہے
لوگ بھی رشتے بھی احساس بھی اور کبھی کبھی ہم خود بھی

Waqt ke sath sath bohat kuch badal jata hai
Log bhi rishtay bhi ehsas bhi aur kbhi kbhi hum khud.
بڑا انسان وہ ہے جس کی محفل میں
کوئی خود کو چھوٹا نہ سمجھے

Bara insaan woh hai jis ki mehfil main
Koi khud ko chota na samjhay.
کون جیتا ہے زندگی اپنی
ہر کسی پر کوئی مسلط ہے

Kon jeeta hai zindagi apni
Har kisi par koi musalat hai.
ہر مسلے کے لیے کوئی نہ کوئی حل ضرور ہوتا ہے
اور اسی حل کی موجودگی کے احساس کا نام امید ہے

Har Maslay Kay Liay Koi Na Koi Hal Zaror Hota Hai
Aur Usi Hal Ki Mojodgi Kay Ehsaas Ka Naam Umeed Hai.
لوگوں کو اس بات سے گرز نہیں کے آپ خوش ہیں یا نہیں
انھیں فرق اس بات سے پڑتا ہے کے آپ انھیں خوش رکھتے ہیں یا نہیں

Logon Ko Is Baat Se Garz Nahin Kay Aap Khush Hain Ya Nahin
Unhain Farq Is Bat Se Parta Hai Kay Aap Unhain Khush Rakhtay Hain Ya Nahin..!
ہجوم کے ساتھ غلط راہ پر چلنے سے بہتر ہے
کے آپ تنہا راہ ہدایت پر چل پڑیں

Hajoom Kay Sath Galat Rah Par Chalnay Se Behtar Hai
Kay Aap Tanha Rah Hidayat Par Chal Parain..!
میرے خیال میں موت تکلیف دہ ہے لیکن اتنی نہیں جتنی کہ زندگی۔

Mere khayal main moat takleef dah hai lekin itni nahi jitni k zindagi.
دولت کی نمائش وہی لوگ کرتے ہیں جن کے پاس دولت کے سوا اور کچھ نہیں ہوتا۔

Dolat ki numaish wohi log krte hain jinke paas dolat k siwa aur kuch bhi nahi hota.
Read More: Meaningful Deep Urdu Quotes