Here is a collection of romantic Barish Poetry and shayari that's are 2 lines, sad Rain Poetry and something more. Read this beautiful collection and share with love ones.
Barish Sad Poetry 2 Lines
Main Kagaz Ki Aik Kashti Hon
Pehli Barish He Akhri Hai Mughe
♦♥♦————♥♦♥————♦♥♦
Tapish Aur Barh Gai Hai In Chand Bondon Kay Bad
Kaly Siyah Badal Ne Bhi Youn He Behlaya Mughe
♦♥♦————♥♦♥————♦♥♦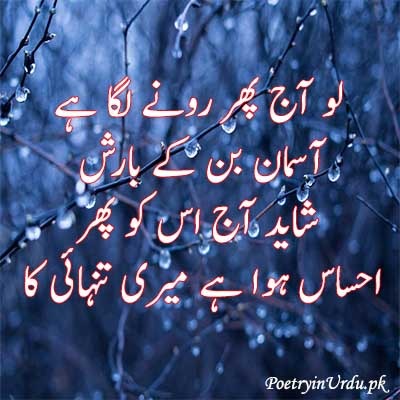 Lo Aaj Phir Rony Laga Hai Aasman Ban Kay Barish
Shayad Aaj Us Kw Phir Ahsas Howa Hai Meri Tanhai Ka
♦♥♦————♥♦♥————♦♥♦
Tum Puchty Thy Kh Kitna Piyar Kerty Ho
Lo Ab Gin Lo Bonden Barish Ki
♦♥♦————♥♦♥————♦♥♦
Rim Jhim, Rim Jhim Baras Rahi Hai
Yaad Tumhari Qatra Qatra…
♦♥♦————♥♦♥————♦♥♦
Jo Barish Ki Tamana Hai To In Ankhon Main Aa Betho
Wo Barson Main Kahen Barsen, Ye Barson Say Barasti Hain
♦♥♦————♥♦♥————♦♥♦
Yon Sleeqe Se Yaad Aate Ho
Jesy Barish Ho Waqfe Waqfe Se
♦♥♦————♥♦♥————♦♥♦
Teri Qurbat Bhi Nahi Hai Mayasar
Aur Din Bhi Barisho Kay Aagaye Hain
♦♥♦————♥♦♥————♦♥♦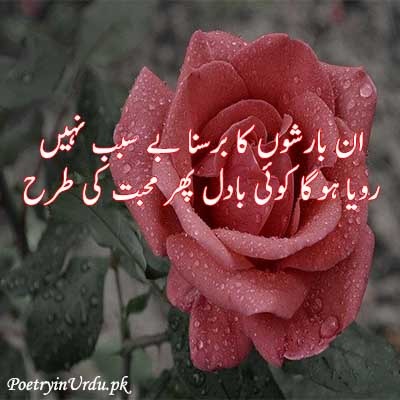 In Barishon Ka Barasna Be-Sabab Nahi
Roya Hoga Koi Badal Phir Muhabbat Ki Terha
♦♥♦————♥♦♥————♦♥♦
Tumhari Yaad Ki Barsat Jab Barasti Hai
Main Toot Jata Hon Kachy Say Jhonpary Ki Terhan
♦♥♦————♥♦♥————♦♥♦
Mujhy Maar Hi Na Daly Ye Badlon Ki Sazish
Jab Se Baras Rahe Han Tum Yad Aa Rahy Ho
♦♥♦————♥♦♥————♦♥♦
Romantic Rain Poetry in Urdu
Usny Barish Main Bhi Khirki Khol Kay Dekha Nahi
Bhegny Walon Ko Kal Kiya Kiya Pareshani Hoi
♦♥♦————♥♦♥————♦♥♦
Lot I Hain Dekho Barishen Phir Say Yahan Wahan
Ik Tum He Ko Lot Aany Ki Fursat Nahi Milti
♦♥♦————♥♦♥————♦♥♦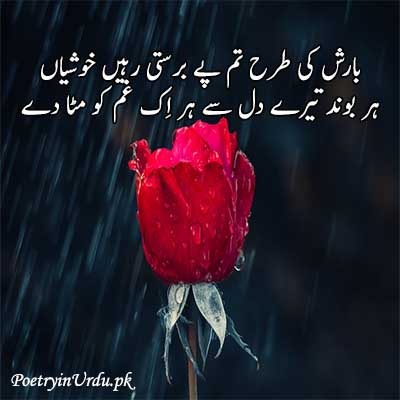 Barish Ki Terhan Tum Pay Barsati Rahen Khusian
Har Bond Tery Dil Say Har Ik Gham Ko Mita Day
♦♥♦————♥♦♥————♦♥♦
Jisy Barish Kay Pani Main Baha Ker Muskuraty Thay
Mughe Kaghaz Ki Kashti Wo Zara Phir Say Bana Dena.
♦♥♦————♥♦♥————♦♥♦
اب کون سے موسم سے کوئی آس لگائیں
برسات میں بھی یاد نہ جب ان کو ہم آئے
Ab Kon Say Mosam Say Koi Aas Lagaye
Barsat Main Bhi Yaad Na Jab Unko Hum Aaye.
♦♥♦————♥♦♥————♦♥♦
اُسے کہنا اپنی قسمت پہ نازکرنا اچھا نہیں ہوتا
ہم نے بارش میں بھی گھر جلتے ہوئے دیکھے ہیں
Use Kehna Apni Qismat Pe Naaz Kerna Acha Nhi Hota
Ham Ne Barish Men Bhi Ghar Jalte Hoy Dekhe Han.
♦♥♦————♥♦♥————♦♥♦
ہمیں کیا معلوم تھا کہ
یہ موسم یوں رو پڑے گا
Hamey Kiya Maloom Tha Kay
Ye Mosam Youn Ro Pary Ga.
♦♥♦————♥♦♥————♦♥♦
کیوں مانگ رہے ہو کسی بارش کی دعائیں
تم اپنے شکستہ درودیوار تو دیکھو۔۔۔
Kiyon Mang Rahe Ho Kisi Barsh Ki Duayen
Tum Apny Shikasta Dar-E-Diwar To Dekho.
♦♥♦————♥♦♥————♦♥♦
بچپن کی وہ امیری نہ جانے کہاں کھو گئی اے دوست
جب بارش کے پانی میں ہمارے بھی جہاز چلا کرتے تھے
Bachpan Ki Wo Ameri Na Jany Kahan Kho Gai Aye Dost
Jab Barish Kay Pani Main Hamary Bhi Jahaz Chala Karty Thay.
♦♥♦————♥♦♥————♦♥♦
بارش کی بوندوں میں جھلکتی ہے تصویر تیری
آج پھر بھیگ بیٹھیں ہیں تمہیں پانے کی چاہت میں
Barish Ki Bondon Main Jhalkti Hai Tasweer Teri
Aaj Phir Bheeg Bethy Hain Tumhen Pany Ki Chahat Main.
♦♥♦————♥♦♥————♦♥♦
Read More: Romantic Poetry in Urdu