Do you like one line poetry? One-line poetry is actually quotes and sayings that a person expresses his apathy or attitude in short words. Such phrases are widely shared on social media these days. There are such famous phrases and one line poetry here, of course readers will love it.
One Line Poetry about Life
حد سے بڑھا جب ملال تو ہم مسکرا دیے
Haad Sae Barha Jab Mlal Tou Hum Muskra Diya
⇔⇔⇔⇔⇔⇔
اے غم زندگی! اسطرح تو چلنے کا ارادہ نہیں تھا
Aye Ghum Zindgi! Is trha To Chlny Ka Irada Nahi Tha
⇔⇔⇔⇔⇔⇔
بہت کٹھن ہے __ راستے حیات کے
Bohat Kathin Hai__Rasty Hayat Ka
⇔⇔⇔⇔⇔⇔
زندگی فن ہے لمحوں کو اپنے انداز سے گنوانے کا
Zindagi Fn Hai Lmhon Ko Apny Andaz Sa Gnwany Ka
⇔⇔⇔⇔⇔⇔
زندگی کی تلاش میں، یہ زندگی کہاں لے آئی
Zindgi Ki Tlash Mai, Ya Zindgi Kaha Lay Aii
⇔⇔⇔⇔⇔⇔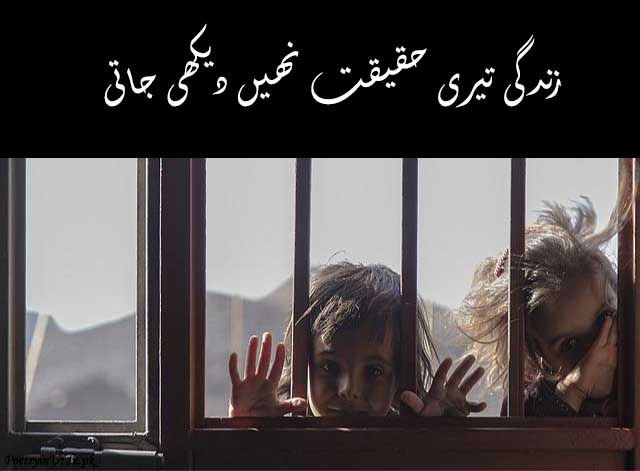 زندگی تیری حقیقت نہیں دیکھی جاتی
Zindagi Teri Haqiat Nahi Daikhi Jati
⇔⇔⇔⇔⇔⇔
ہم کیوں چلیں اس راہ پر جس راہ پر سب چلیں
Hum Kyu Chlain Os Rah Pr Jis Rah Pr Sb Chaly
⇔⇔⇔⇔⇔⇔
انسان کو تھکا دیتا ہے یہ سوچوں کا سفر
Insan Ko Thka Daita Hy Ya Socho Ka Safar
⇔⇔⇔⇔⇔⇔
کنارا کیجۓ صاحب ہم برے لوگ ہیں
Kinara Kijya Sahib Hum Buray Log Hai
⇔⇔⇔⇔⇔⇔
یہ وقت بھی گزر جاۓ گا
Ya Waqat Bhi Guzar Jae Ga
⇔⇔⇔⇔⇔⇔
سکوں کھو دیا خواہشات کی چاہت میں
Sako Kho Diya Khwahishat Ki Chahat Mai
⇔⇔⇔⇔⇔⇔
وقت سکھاتا ہے قدر رشتوں کی اور اپنوں کی
Waqat Sikhata Hye Qadar Rishton Ki Aur Apno Ki
⇔⇔⇔⇔⇔⇔
Sad One Line Poetry Quotes
عین ممکن ہے کہ سبھی سے کنارہ کر لوں
Ain Mumkin Hy Ka Sbhi Sa Kinara Kr Lon
⇔⇔⇔⇔⇔⇔
غم کو سہنے میں بھی قدرت نے مزہ رکھا ہے
Gham ko Sahny Mai Bhi Qudrat Na Maza Rakha Hy
⇔⇔⇔⇔⇔⇔
روح بیزار ہو تو دل بھی مشکل سے ہی ہنستا ہے
Rooh Bazar Ho To Dil Bhi Moshkil Sa Hi Lagta Hye
⇔⇔⇔⇔⇔⇔
وہ شخص اپنی زد میں مجھے گنوا گیا
Wo Shaks Apni Zid Mai Mujhy Gawa Gya
⇔⇔⇔⇔⇔⇔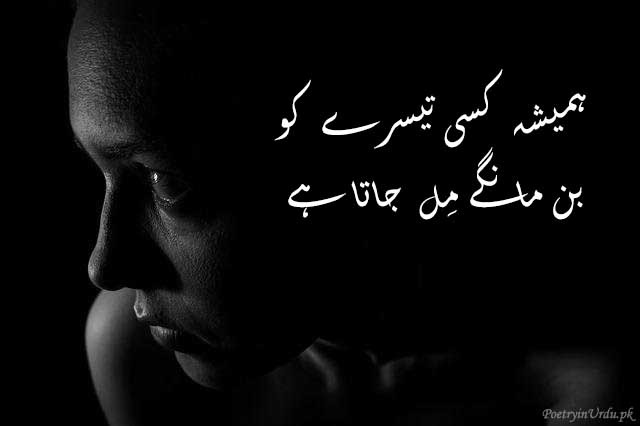 ہمیشہ کسی تیسرے کو بن مانگے مِل جاتا ہے۔
Hamesha Kisi Teesry Ko Bin Mange Mil Jata Hai.
⇔⇔⇔⇔⇔⇔
حشر میں بتاؤں گا جو حشر تم نے کیا ہے
Hashar Mai Btao Ga Jo Hashar Tum Nai Kiya Hai
⇔⇔⇔⇔⇔⇔
جی بھر کی چاہنے والوں کا جی بھر گیا ہے ہم سے۔
Ji Bhar Ke Chahne Walon Ka Ji Bhar Gia Hai Ham Se.
⇔⇔⇔⇔⇔⇔
اے دل کی خلش __چل یوں ہی سہی
Aye Dill Ki Khlash__ Chal Yu Hi Sahi
⇔⇔⇔⇔⇔⇔
وابستگیاں ہمیشہ تکلیف دہ ہوتی ہیں
Wabstgiya Hmaisha Takleef Dah Hoti Hai
⇔⇔⇔⇔⇔⇔
تکلیف وہ ہے جو آپ کے اندر کو بدل دے
Takleef Wo Hae Jo Ap Ke Andar Ko Bdal Dai
⇔⇔⇔⇔⇔⇔
One
Line
Romantic Love
Poetry
مجھے ہر گھڑی آرزو ہے تمہاری
Mujhy Hr Ghari Arzo Hy Tumhari
⇔⇔⇔⇔⇔⇔
تم حقیقت نہی حسرت ہو میری
Tum Haqiqat Nahi Hasrat Ho Meri
⇔⇔⇔⇔⇔⇔
تم بھی ہنستی ہوئی تصویر پر مر جاتے ہو
Tum Bhi Hansti Hoi Taswir Pr Mar Jaty Ho
⇔⇔⇔⇔⇔⇔
محبت کی حقیقت میں جدائی آخری سچ ہے
Muhabat Ki Haqiqat Mai Judai Akhri Such Hai
⇔⇔⇔⇔⇔⇔
جانے والوں کا عکس آنکھوں میں ٹھر جاتا ہے
Jany Walo Ka Aqas Ankho Mai Tahr Jata Hai
⇔⇔⇔⇔⇔⇔
خاموشی اکثر رشتے توڑ دیتی ہے
Khamoshi Aksar Rishtay Tor Daiti Hai
⇔⇔⇔⇔⇔⇔
One Line Poetry in English
When in disgrace with fortune and men's eyes. Shakespeare
⇔⇔⇔⇔⇔⇔
Shall I compare thee to a summers day. Shakespeare
⇔⇔⇔⇔⇔⇔
The lady doth protest too much, methinks. Shakespeare
⇔⇔⇔⇔⇔⇔
To be or not to be: that is the question. Shakespeare
⇔⇔⇔⇔⇔⇔
What is this life if, full of care,/We have no time to stand and stare. W.H. Davies
⇔⇔⇔⇔⇔⇔
Season of mists and mellow fruitfulnes. Keats
⇔⇔⇔⇔⇔⇔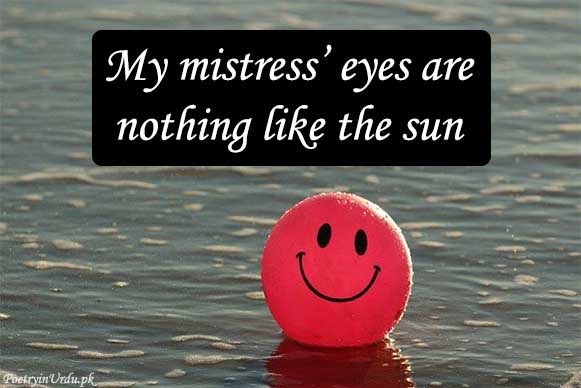 My mistress' eyes are nothing like the sun. Shakespeare
⇔⇔⇔⇔⇔⇔
If music be the food of love, play on. Shakespeare
⇔⇔⇔⇔⇔⇔
We few, we happy few, we band of brothers. Shakespeare
⇔⇔⇔⇔⇔⇔
The quality of mercy is not strained. Shakespeare
⇔⇔⇔⇔⇔⇔
Friends, Romans, countrymen, lend me your ears. Shakespeare
⇔⇔⇔⇔⇔⇔
A thing of beauty is a joy forever. Keats
⇔⇔⇔⇔⇔⇔
Beauty is truth, truth beauty; that is all. Keats
⇔⇔⇔⇔⇔⇔
A narrow fellow in the grass. Emily Dickinson
⇔⇔⇔⇔⇔⇔
Because I could not stop for death / He kindly stopped for me. Emily Dickinson
⇔⇔⇔⇔⇔⇔
And miles to go before I sleep. Robert Frost
⇔⇔⇔⇔⇔⇔
Things fall apart; the centre cannot hold. W.B.Yeats
⇔⇔⇔⇔⇔⇔
Read More: Quotes in Urdu