Here are best punjabi poetry which covered many topics love, sad, romantic, sufi and funny punjabi shayari. Find the best punjabi poetry images of your choice in our page and share with friends or social media.
Teno shauq jo sahi sano raulan da
Aa wekh te sahi asan rul gay aan 
♦♥♦———–♦♥♦———–♦♥♦
Rab da ghar ae dil ander
Kady dil kisay da dhain naa
♦♥♦———–♦♥♦———–♦♥♦
Sara juram ae mukhlis akhian da 
Jinhan zalim sajan pasand kety
♦♥♦———–♦♥♦———–♦♥♦
Kdi peyar nai mokda dila vechon
Sa mokdy mokdy mok jandy
Bulleh Shah
♦♥♦———–♦♥♦———–♦♥♦
Asan ujre log mkadran dy
Weran nseba da hal na poch
Ton Shakir aap siyana ein
Sada chehra parh halaat na poch
♦♥♦———–♦♥♦———–♦♥♦
Sohny rab di har shai sohni ea
Mennu sab to sohna to lagna ein
♦♥♦———–♦♥♦———–♦♥♦
Okhay painday lamian ne rahaan ishq diyan
Dard jigr sakht sazawan ishq diyan
Hay phulan wargi jindri ishaq rula chada
Sare bazar chahwy ishaq nacha chada
♦♥♦———–♦♥♦———–♦♥♦
Tennu saade wargi nahi charhni
Asaa'n yaar dee akh chon peeti ae
♦♥♦———–♦♥♦———–♦♥♦
Har koi yaar nai hunda bleya
Kdi kleya bhh ky soch ty sai
♦♥♦———–♦♥♦———–♦♥♦
Ma q wekha lokan dy nkhrey
Ma ap ve wkhera mery shock ve vkhrey
♦♥♦———–♦♥♦———–♦♥♦
Bekar snget dy kafly ton
Asi kleyan ei murshed theak an
♦♥♦———–♦♥♦———–♦♥♦
Hath jura ae pakhian da
Ik wari tak sunihan, ki janda ae akhian da
♦♥♦———–♦♥♦———–♦♥♦
Apni mnfi jmaa wech reh?
Sadi zarab lagi ty
Teri taqseem paki.
♦♥♦———–♦♥♦———–♦♥♦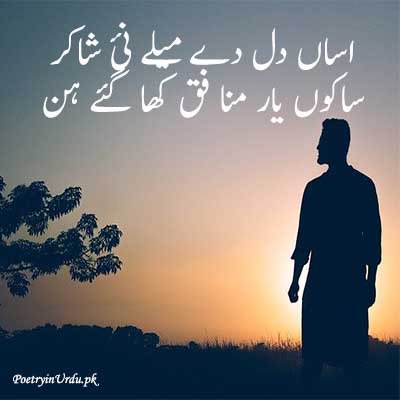 Asa dill dy mely nai shaker
Sakon yar monafak kha geay hn
♦♥♦———–♦♥♦———–♦♥♦
Ik akh da mul ae sawa lakh Buleha
Pura yar tulan te ki bansi
♦♥♦———–♦♥♦———–♦♥♦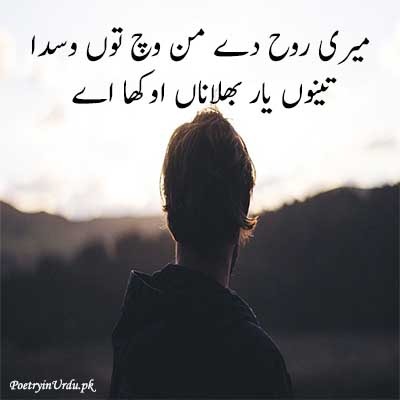 Meri rooh dy munn wiche toon wsda
Tenu yaar bhulana okha ea
♦♥♦———–♦♥♦———–♦♥♦
Ronek mellay ,glla baatan darshen shaam svery
Yaran naal bharaan ty yaar bajh hnery
♦♥♦———–♦♥♦———–♦♥♦
الحمداللہ آپ آں جو وی آں
کسے دے سر تے نئی بنیاں
Allhamdulilah ap ann jo ann
Kisy dy ser ty naei baniya
♦♥♦———–♦♥♦———–♦♥♦
محفلاں وچ میں، اپنی پہچان آپ آں
چاچے، مامے دے حوالے میں نئی دیندا
Mehfla wech ma, apni pehchan ap aan
Chachay, mamy dy hwaly ma nai denda
♦♥♦———–♦♥♦———–♦♥♦
عزت بنانی پیندی اے شریکو
تعلق تے کنجراں دے وی ہندے
Izet bnani pendi ea shreko
Taalok ty knjra dy vi hundy ny
♦♥♦———–♦♥♦———–♦♥♦
شریک اندروں تے پھردے نے پنگا لین نوں
پرحوصلہ چاہی دا ساڈے گل پین نوں
Shreek andron ty pher dy ne pngha leen noe
Pr honsla chahi da sady ghall peen noe
♦♥♦———–♦♥♦———–♦♥♦
مرشد تعلق ساڈے وی وڈے نے
پر دکھاوا کرن دا شوق نئی
Mrshed talok sadey vi wdey ny
Pr dekhawa kren da shock nai
♦♥♦———–♦♥♦———–♦♥♦
 سجن رکھ تے مخلص رکھ
کملیا
مطلبی تے ہر کسی کول ہوندے نے
Sjan rhakh ty mukhlas rhakh
Kmleya
Mtlbi ty har ksey kool hondy ny
♦♥♦———–♦♥♦———–♦♥♦
میں لکھاں شکر ادا کیتے
رب مخلص یار عطا کیتے
Ma lakhe shoker ada ketay
Rab  mukhelus yaar eta ktey
♦♥♦———–♦♥♦———–♦♥♦
چیزاں ورتی دیاں
یار نئی ورتی دے
Chezaa vrtee deya
Yaar nai vrrti dy
♦♥♦———–♦♥♦———–♦♥♦
مقابلے دیاں گلاں چھڈ دے کاکا
میرے تے ڈبلیکیٹ وی ہیٹ ہوندے نے
Mukably deya gllan chahdy kaka
Mery ty duplicate ve hate hundy ny
♦♥♦———–♦♥♦———–♦♥♦
یار ہوندے نے نشئیا ورگے
تے نشیے چھڈنے سوکھے نئی
Yar hundy ny nusheya wrge
Ty nushey chedny sokhey nei
♦♥♦———–♦♥♦———–♦♥♦
میں کسے دی سمجھ چہ اوۂ
او اینی کسے چہ سمجھ ہی نئی
Ma kesy de samajh chh aawo
Oh eani kesy ch samjh hae nahe
♦♥♦———–♦♥♦———–♦♥♦
میں ککھ گلیاں دی بن جاواں
جے یار اڑاوے پیراں نال
Ma kkha gliya di bun jawa
Je yar orave pera naal
♦♥♦———–♦♥♦———–♦♥♦
میں کملی آں اوس ڈھولن دی
جس سوں کھادی اے رولن دی
Main kamli aan us dholan dee
Jis soh'n khaadi ae rolan dee
♦♥♦———–♦♥♦———–♦♥♦
کُچھ ساڈا مان وی رہ جاندا
اِک وار تے اپنا کہ جاندا
Kujh sada maan vi reh janda
Ek vaar te apna keh janda
♦♥♦———–♦♥♦———–♦♥♦
ساڈے پچھے جگ رُلیا
اسی تیرے پچھے رُل گئے آں
Sad pechy jag rulya
Asin tere pechy rul gay aan
♦♥♦———–♦♥♦———–♦♥♦
بڑا عشق عشق تو کرنا ں اے
بڑا عشق عشق تو کرنا ں اے
کدی عشق دا گنجل کھول تے سعی
تینوں مٹی وچ نہ رول دیوے 
دو پیار دے بول بول تے سعی 
سکھ گھٹ تے درد ہزار ملن
کدی عشق نوں تکڑی تول تے سعی
تیری ہسدی اکھ وی پج جاوے 
کدی سانوں اندروں پھول تے سعی
وارث شاہ
♦♥♦———–♦♥♦———–♦♥♦